How significant is the antibody level of anti-S IgG for detecting previous breakthrough infections?
14.11.2022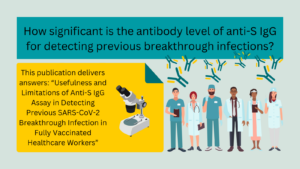 Finding the threshold value in antibody assay after SARS-CoV-2 breakthrough infection in fully vaccinated healthcare workers
Knowing the trend of the antibody level in the human blood to SARS-CoV-2 is particularly significant in understanding the immune response against the virus. The ORCHESTRA study "Usefulness and Limitations of Anti-S IgG Assay in Detecting Previous SARS-CoV-2 Breakthrough Infection in Fully Vaccinated Healthcare Workers" investigated if the anti-S IgG assay can be used as indicator for previous SARS-CoV-2 infection.  Gianluca Spiteri and Maria Grazia Lourdes Monaco, occupational physicians of Occupational Medicine Unit at the University Hospital of Verona, are first authors of the study and explain what the team – associated with ORCHESTRA Work Package 5 (WP5 – the Healthcare Workers Cohort) – researched.
What is the specific research question and what did you look at?
Our goal was to find out:
How useful is an anti-S IgG assay as screening tool for previous SARS-CoV-2 breakthrough infection on a large population of Health Care Workers?
What is the optimal cut-off value for detecting previous breakthrough infections in vaccinated and SARS-CoV-2 naïve subjects?
Does the diagnostic accuracy of anti-S IgG antibodies changes over time after vaccination?
Which group of the population benefits from your research?
The high-risk populations for SARS-CoV-2 infection, such as Health Care Workers, are those who could benefit more from the results of our study.
How many cases from how many cohorts did you evaluate (if this is applicable)?
This study was carried out on 6404 Health Care Workers, who had received two doses of the mRNA-based BNT162b2 vaccine, employed at the University Hospital of Verona. Fifty-nine of them had a BI during the study period.
How long did it take to get results?
This retrospective study analysed data from the start of the anti SARS-CoV-2 vaccination campaign on 27th December 2020 to the End of September 2021.
What are the results?
The anti-S IgG identified cut-off showed good sensitivity and specificity in discriminating subjects with breakthrough infections, in fully vaccinated individuals for over six months. However, the very low incidence of BI determined a considerable reduction in Positive Predictive Value, thus limiting the usefulness of anti-S IgG assessment as a screening tool. So further studies are needed to identify more effective markers of previous infection in vaccinated subjects.
Was there anything surprising that you found?
This study showed a limited usefulness of the anti-S IgG assay in discriminating previous breakthrough infection among fully vaccinated Health Care Workers, as compared to what has been reported in the only previous study that investigated this aspect in a smaller sample. This underlines the importance of further research.
What are your recommendations?
More studies on the detection of effective markers of previous infection in vaccinated subject should be performed to update recommendations for administering booster doses and to estimate the real incidence and prevalence of SARS-CoV-2 infections throughout the different phases of the still ongoing pandemic.
Which ORCHESTRA partners are involved?
This study involves the WP5 Cohort from Verona.
Thank you very much for the interview, Drs. Spiteri and Monaco and congratulations to you and the team for your fantastic work!
Please find the publication here.
###