ORCHESTRA contributes broadly to the European Congress of Clinical Microbiology and Infectious Diseases – agenda and first overview
14.04.2023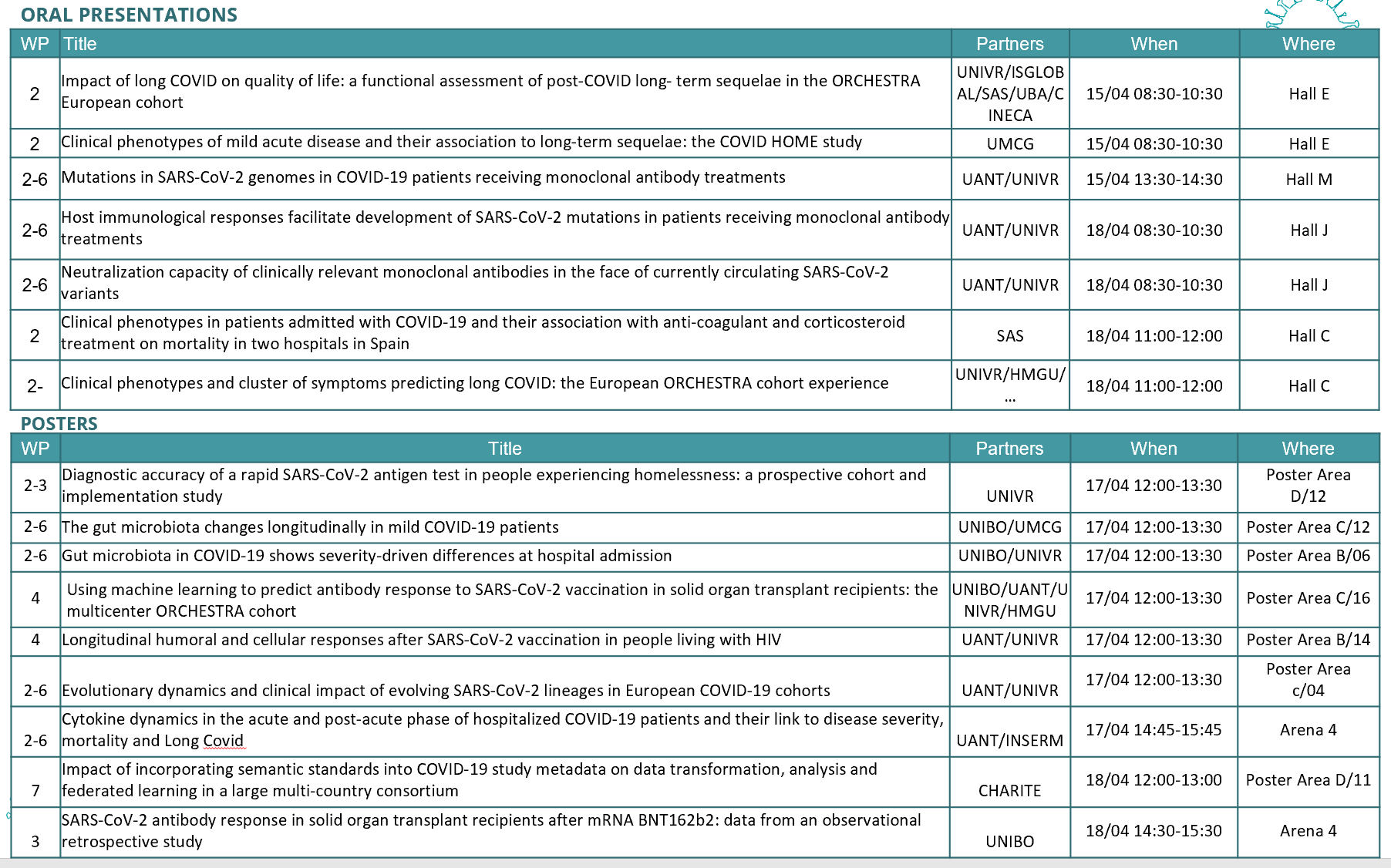 ORCHESTRA proudly presents a vast variety of research results at the European Congress of Clinical Microbiology and Infectious Diseases (ECCMID), held from April 15-18, 2023, in Copenhagen, Denmark. The project's contributions cover a broad range of topics related to COVID-19, reflecting the project's wide scope of research.
The oral and poster sessions presented by ORCHESTRA researchers include investigations into the impact of Long COVID on quality of life, clinical phenotypes of mild acute disease, improving genomic and environmental surveillance of SARS-CoV-2, evolutionary dynamics and clinical impact of evolving SARS-CoV-2 lineages, and possible diagnostic markers for SARS-CoV-2 infection. Additionally, the presentations address novel strategies for anti-COVID-19 treatment and clinical phenotypes in the era of evolving SARS-CoV-2 variants and clinical data research.
The ECCMID is an annual conference organized by the European Society of Clinical Microbiology and Infectious Diseases (ESCMID), bringing together leading experts and professionals in the fields of clinical microbiology and infectious diseases. All fifteen submitted abstracts have been accepted by the ECCMID jury, known for its high standards.
Long COVID research, a topic that is taken very seriously by the researchers, will make the start of the conference, with ORCHESTRA contributing two oral sessions to the panel. The project has been investigating the long-term effects of SARS-CoV-2 from the outset, allowing now to retrieve results. Prof. Adriana Tami from the University of Groningen will present "Clinical phenotypes of mild acute disease and their association to long-term sequelae: the COVID HOME study", which will provide answer on how people with mild cases of COVID-19 are affected differently and how these effects might continue to impact them in the long-term. Elisa Gentilotti from the University of Verona will focus on the impact of Long COVID on quality of life.
ORCHESTRA researchers Prof. Samir Kumar-Singh and Mathias Smet, both from the University of Antwerp, will present results on the effects of monoclonal antibody treatments on SARS-CoV-2 mutations. Monoclonal antibodies (mAbs) offer a treatment option for individuals at high risk of developing severe COVID-19 and for whom vaccination does not offer optimal protection. However, the treatment comes with a serious trade-off, as the scientists will show.
The process of clinical phenotyping allows researchers and physicians to draw conclusions about the progression of a disease. Elisa Gentilotti will explain this in relation to Long COVID, and Giulia Maria Caponcello from Servicio Andaluz de Salud will present the association with anti-coagulant and corticosteroid treatment on mortality in two hospitals in Spain.
ORCHESTRA offers many other significant presentations at the ECCMID, as shown in the agenda above. ORCHESTRA's contributions at the ECCMID reflect the wide scope of research that the project undertakes. The project's research results will provide valuable insights into COVID-19, its effects, and possible treatments, contributing to the scientific community's understanding of the disease.
Press contact:
Marlene Nunnendorf
ORCHESTRA Science Communication Officer
Email: marlene.nunnendorf@orchestra-cohort.eu
###