ORCHESTRA study examines incidence and risk factors of SARS-CoV-2 breakthrough infections among health workers
03.04.2023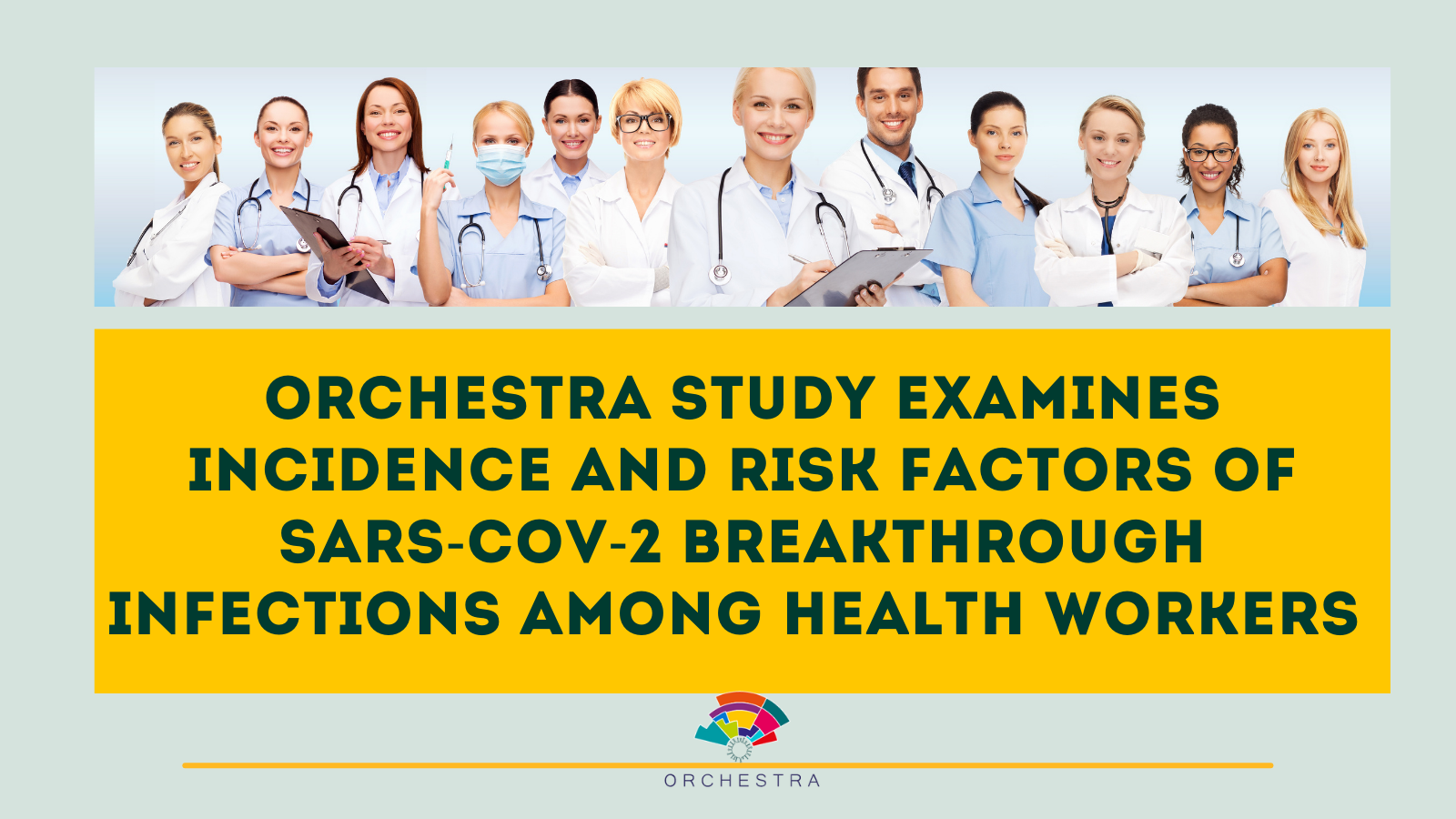 "SARS-CoV-2 Breakthrough Infections: Incidence and Risk Factors in a Large European Multicentric Cohort of Health Workers" is a study conducted within Work Package 5 (WP5), which is led by Prof. Paolo Bofetta, Department of Medical and Surgical Sciences, University of Bologna. The answers were given by his team Mahsa Abedini, Giulia Collatuzzo, Giorgia Ditano, Ludovica Leomanni, Marika D'Agostini, Shuffield Seyram Asafo and Adelajda Matuka.
What is the specific research question and what did you look at?
The study wanted to learn about the number of cases where vaccinated healthcare workers still got infected with COVID-19 and what factors may have contributed to it. They looked at data from over 60,000 healthcare workers and studied how things like age, job title, and previous COVID-19 infection may have played a role in breakthrough infections. They also looked at how long it had been since the healthcare workers completed their vaccine course and the levels of antibodies they had in their blood.
How many cases from how many cohorts did you evaluate?
A large cohort of more than 60,000 health workers from 12 centers was analysed.
What are the results and answers?
We looked at data from 64,172 healthcare workers from 12 European health centers. We found 797 breakthrough infections, which means that 1.2% of the workers had been infected with COVID-19 even though they were vaccinated. When we analyzed individual data from eight centers, we found that age and previous COVID-19 infection were significant factors in the rates of breakthrough infections. However, when we looked at data from all centers together, we found that workers who had previously been infected with COVID-19 and had high levels of antibodies were less likely to get a breakthrough infection.
Was there anything unexpected/surprising that you found?
One remarkable finding is that having previously been infected with COVID-19 appears to provide some protection against breakthrough infections, even in individuals who have been fully vaccinated. Additionally, the inverse relationship between standardized antibody titer levels and risk of breakthrough infection suggests that measuring antibody levels could be useful in identifying individuals who may be at higher risk of breakthrough infection and may benefit from additional doses of the vaccine.
Who (which group of the population) benefits from your research?
It's important to study how many breakthrough infections are happening and how long the vaccines continue to work in order to make decisions about when people should be vaccinated, how often they should be tested for COVID-19, how closely their health should be monitored, what restrictions should be in place, and whether they should be allowed to work in certain settings.
What are your recommendations?
The fact that people with higher levels of antibodies are less likely to get a breakthrough infection shows that getting vaccinated is really important for preventing infection, especially for healthcare workers. It's also important to study other factors like immune response, medical history, and timing of the vaccine to understand how to prevent infections even better.
Which ORCHESTRA partners are involved?
Università degli Studi di Verona (UNIVR) with contribution of:
University of Padua (UNIPD)
University of Perugia (UNIPG)
University of Trieste (UNITS)
University of Modena-Reggio (UNIMORE)
Alma Mater Studiorum – Università di Bologna (UNIBO) with contribution of:
University of Brescia (UNIBS)
University of Turin (UNITO)
University of Bari (UNIBA)
Ludwig-Maximilians – Universitaet Muenchen (LMU)
National Institute of Public Health Bucharest (INSP)
Regional Authority of Public Health Banska Bystrica (RAPH BB)
The University of Oviedo (UNIOVI)
Press contact:
Marlene Nunnendorf
ORCHESTRA Science Communication Officer
Email: marlene.nunnendorf@orchestra-cohort.eu
###