About Workpackages
ORCHESTRA consists of 11 work packages with different tasks. In addition to a coordination unit, there are units responsible for the different cohorts (Work Packages 2 – 5) and those that centrally manage the biobanking, data management, dissemination, statistics and ethics aspects of the project (Work Packages 6 – 11).
Our Workpackages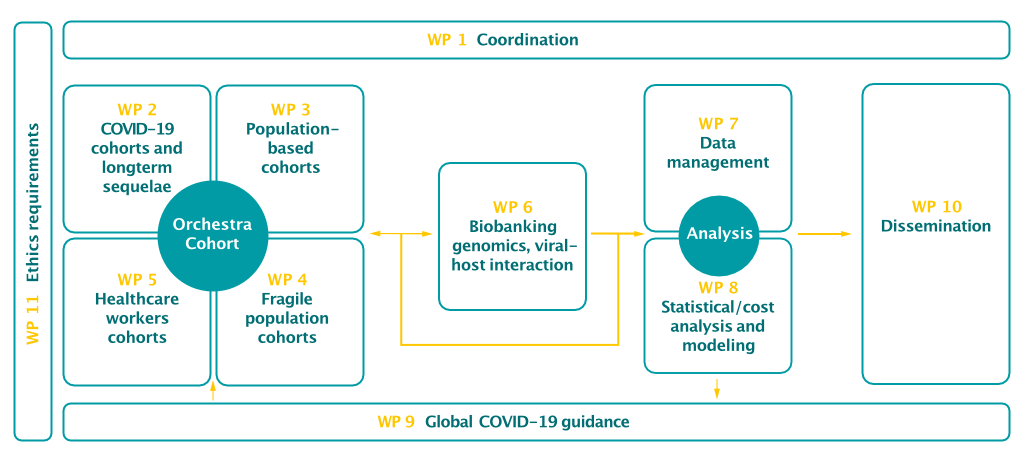 1
WP 1: Coordination
Leader: UNIVR
The coordination of the ORCHESTRA project is managed by a women-led team from University of Verona and the corresponding Work Package 1 aims to ensure that important milestones and deliverables are met and ensures continuous exchange with the European Commission and all participating sites.
Partners: UNIBO, SAS, CINECA, LIH, AP-HP, RER-ASSR, ISGLOBAL, LMU MUENCHEN, UANTWERPEN, HMGU, UHC, PENTA, USTUTT, CERMEL, RAPH BB, Charité, UMCG, CINES, UNIOVI, UBA, INSP, UKHD, REG VEN
2
WP 2: COVID-19 cohorts and long-term sequelae
Leader: UNIVR
Co-Leader: UHC/INSERM
Work Package 2 is responsible for assessing COVID-19 patients within the project. Data from different countries will be centrally registered and processed in such a way that a statement can be made about the clinical symptoms, the course of the disease, therapeutic measures, the medium- and long-term outcome and the chance of reinfection of COVID-19 patients.
Partners: UNIBO, INSERM, SAS, AP-HP, RER-ASSR, UHC, UMCG, REG VEN, FCRM
3
WP 3: Population-based cohorts
Leader: LMU / INSERM
Work Package 3 will describe the incidence of infection with frequencies in the general population. It will investigate which risk factors play a role in the individual countries, which different consequences the lockdown had and how people complied with the measures. It will also evaluate the short- and long-term consequences of COVID-19 disease, how long immunity lasts after infection and vaccination, and which testing strategies are most effective.
Partners: UNIVR, UNIBO, LIH, RER-ASSR, LMU MUENCHEN, HMGU, UMCG, REG VEN
4
WP 4: Fragile population cohorts
Leader: UNIBO
Co-Leader: SAS
Work Package 4 will include and evaluate data from fragile patient groups (pregnant women/new-born, children, patients with HIV infection, solid organ transplant recipients, patients with immunologic disorders, patients with Parkinson Disease and residents of LTCFs) to make a statement about causes, expression, therapeutic measures, prognosis, and the resulting implications for the treatment of COVID-19 infection in this group.
Partners: UNIVR, SAS, LIH, PENTA, CERMEL, UMCG, UNIOVI, UBA, UKHD, FCRM
5
WP 5: Health Care workers cohorts
Leader: UNIBO
Co-Leader: INSP
To investigate the incidence of COVID-19 infection and immune response after disease and vaccination, Work Package 5 was created in order to draw strategies for protective measures in exposed person groups. For comparison, data of health care workers from other non-European countries are also included.
6
WP 6: Biobanking, genomics and virus-host interactions
Leader: UANTWERPEN
Co-Leader: UNIBO
The laboratory aspects of the ORCHESTRA cohort will be considered by Work Package 6. The aim of this task is to provide information about the different genetic variants of COVID-19 and their influence on the clinical expression, e.g. also on the microbiome. In addition, the relationship of certain laboratory values to the severity of the disease will be investigated.
7
WP 7: Data Management
Leader: CINECA
Co-Leader: CINES / USTUTT
An extremely challenging task within the ORCHESTRA project is the collection of data from the different European and international countries. This is the central task of Work Package 5 and is tied to the various legal aspects of the individual sites involved. Data is to be collected centrally and decentrally with the help of supercomputing and without the possibility of drawing conclusions about sensitive information.
8
WP 8: Statistical/cost analysis and modeling
Leader: HMGU
Co-Leader: ISGLOBAL
Work Package 8 will use the harmonised data to refine the analysis of risk factors for SARS-CoV-2 acquisition and severe COVID-19 disease. Beyond age, gender, genetic variants, previous vaccinations and co-morbidities, they will study the impact of socio-economic factors (education, professional activity), environmental factors (local population density, air pollution, climate), lifestyle (physical activity), specific contact social mixing (households and nursing homes), and the microbiome composition.
9
WP 9: Global COVID-19 guidance
Leader: UMCG
Co-Leader: UNIVR
Work Package 9 is responsible for distributing and interpreting the results of the project in the context of the different countries, cultures and economies involved. A continuous exchange between the European and international partners will be established in order to provide a basis for future cooperation in the field of Global Health and pandemic response.
Partners: LMU, UANTWERPEN, CERMEL, INSP, FCRM
10
WP 10: Dissemination
Leader: UHC
Co-Leader: UNIVR
To ensure a continuous flow and exchange of information on the progress of the ORCHESTRA project and to communicate the results internationally, Work Package 10 was created. Obtained knowledge will be distributed fairly and in a tailored way among interested public and scientific groups.
Partners: SAS, CINECA, RER-ASSR, ISGLOBAL, LMU MUENCHEN, UANTWERPEN, USTUTT, CERMEL, CINES, FCRM
11
WP 11: Ethic Requirements
Leader: UNIVR
The security of the patient data and structures involved is essential to the project. Therefore, an extra Work Package 11 was created to deal with the ethical aspects and requirements.